With your ideas towards a innovative social sector for all
Our society is facing numerous social challenges and the public administration, charities & social service providers, civil society and (social) enterprises are already working to solve them. In the face of increasingly complex challenges, there is a need for more collaboration and dialogue across sectors. Together we can achieve more!
UpdateSocial is designed to provide the framework for collaboration!
In all sectors of our society, there are people who either already have an idea for solving a challenge or want to develop new approaches (e.g. new products, social services). With UpdateSocial, we bundle the innovative power of all sectors and create a breakthrough together. We thus combine the wealth of ideas of civil society with the implementation power of charities and public administration.
To begin with, we (you and I, and many people from different sectors) come up with ideas and approaches to solutions for the previously defined social challenges in a collaborative 48 hour "Ideenwerkstatt" (Ideation Lab). A support program (Accelerator Program for approaches to solutions to social challenges) will accompany the further development of these approaches to make them ready for collaboration with piloting and scaling partners such as Volkshilfe Upper Austria, other social service providers or public administration.
ALL are called to participate. Co-creative, local and digital.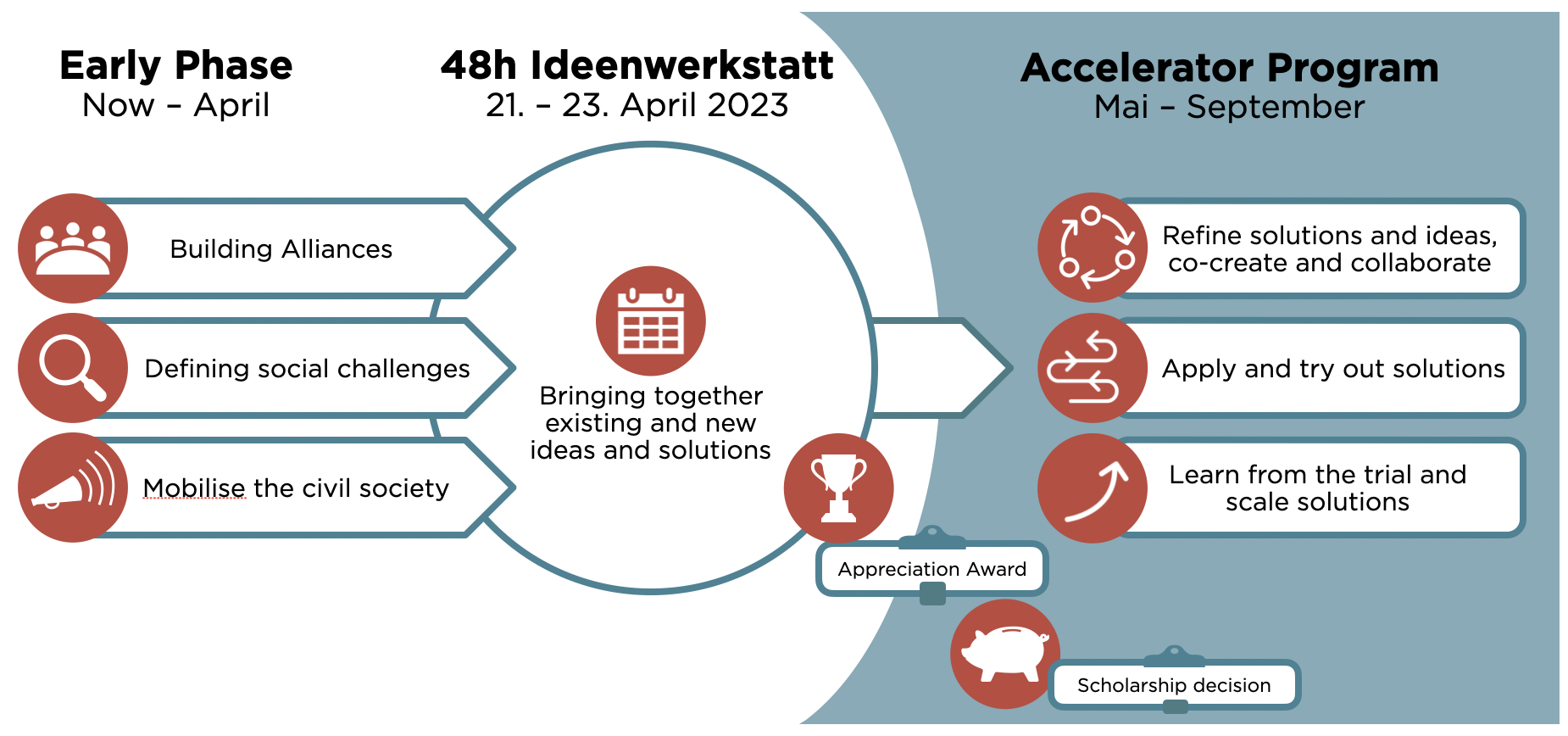 Join the update of the social sector by citizens for citizens!
Together we can drive innovative solutions and strengthen the community for social innovations in Upper Austria.
Role as participant:
Become part of the community of makers, benefit from a public-supported, collaborative and solution-oriented cooperation, help to develop new solutions for the social challenges of our time or commit yourself to take it to the next level with your idea. Curious? Then visit us at https://updatesocial.org/mitmachen/.
Role as mentor / ambassador / implementation partner:
Support the participants with your knowledge and network. Work with the community at eye level and contribute to a livable future for all.
Join us in calling on all citizens in Upper Austria and everyone who wants to come to participate in the 48h "Ideenwerkstatt" (Ideation Lab). Whether it's a newsletter or social media - anything works and helps us.
Do you know other role models who stand for change? Invite them to become part of UpdateSocial.
If you are interested, please contact This email address is being protected from spambots. You need JavaScript enabled to view it..
These partners are already part of UpdateSocial: https://updatesocial.org/team/#partner.
Our mission
With UpdateSocial we want to strengthen the social innovation ecosystem in Upper Austria. The core element of this ecosystem is a strong and transformational community in which there is trust in each other. Thus, this initiative serves as the basic building block for an organically growing movement that drives the digital and green transformation of the social service sector.
How does UpdateSocial work?
Form alliances and define challenges
We form alliances with leading actors from all sectors to pool everyone's innovative power and foster collaboration.
The focus is on social challenges that need to be solved. Together with key players in public administration (Land OÖ - Upper Austrian provincial government, Stadt Linz) and with the expertise of Volkshilfe Upper Austria, we identify relevant social issues that we address to civil society.
Mobilizing civil society and (further) developing solutions
Through an open call at the beginning of March, civil society is to be mobilized for UpdateSocial. Thus, a community will be built to advocate for a sustainable social service sector.
In mid-April (21. - 23. April 2023), the 48h "Ideenwerkstatt" will take place, where existing and new solution approaches for the identified challenges will be developed. Selected solutions will then be awarded by a jury in diverse categories.
Supporting and scaling ideas with potential
Initiatives can apply for a support program after the "Ideenwerkstatt" (until 04. April 2023). This starts at the beginning of May (10. Mai 2023) and helps the teams to further develop their solutions through e.g. expert inputs, community meetings and the help of mentors.
Following the support program, the pilot program will start in October 2022. On October 3, 2023, the project groups will have another opportunity to present their solutions at the Community Celebration. Joint successes will be celebrated, the next steps will be targeted, and the future of the social innovation community will be shaped. What works will be piloted with united strength, e.g. with the help of an implementation partner from our network for social innovation.
Derive and process insights
Throughout the process of UpdateSocial, which is funded as a scientific project by the Ludwig Boltzmann Gesellschaft, we are collecting insights for a comprehensive "Learning Report" for shared learning on the one hand and for basic research of Open Social Innovation on the other hand.
More information about the project can be found here: