Tracing the Sculptured Resin Bee.
Home of the Sculptured Resin Bee (Megachile sculpturalis Smith, 1853) is far away in Japan, China, Korea and Taiwan. In 2008, the Sculptured Resin Bee was discovered in southern France as the first translocated wild bee species in Europe. Since then, the bee has been particularly active and spread rapidly throughout Europe.
Where to spot the Sculptured Resin Bee?
Males of the Sculptured Resin Bee emerge earlier than females in the End of June until mid-July. Females appear a few weeks later and are active until about mid-September. Like other wild bee species, the Sculptured Resin Bee requires cavities in dead wood for nesting. For this reason, they often inhabit artificial nesting sites, so-called "Bienenhotels". They prefer to collect pollen from exotic plants, which were frequently introduced in Central Europe as ornamental plants and decorate gardens and parks, such as the Japanese pagoda tree (Styphnolobium japonicum).
What are the main goals of the project?
The project aims to investigate if the species has to be considered as invasive species and to identify possible negative ecological consequences for the newly populated area. Furthermore, the monitoring program aims to locate the Sculptured Resin Bee in Europe, to examine its rapid dispersal behavior more closely and to investigate its preferences with regard to plant and nesting site selection. The anonymized discovery site data and ethological data are published in scientific publications.
This project also aims to sensitize the participants to the local fauna and to deal intensively with wild bees and their protection. The citizen scientists get a feeling for the possible effects of intentionally and unintentionally introduced and invasive species. A new point of view is presented to the co-researchers with regard to artificial nests and active interventions in ecological systems. Participants will be taught how simple actions can be taken to support wild bees and other insects. They will also become part of scientific processes and gain insight into how research processes work.
When you have spotted the Sculptured Resin Bee?
If you discover the giant resin bee, please take a photo or video and send it with the observation date and location to the following email address: This email address is being protected from spambots. You need JavaScript enabled to view it. or report the observation on Instagram: asiatische_moertelbiene.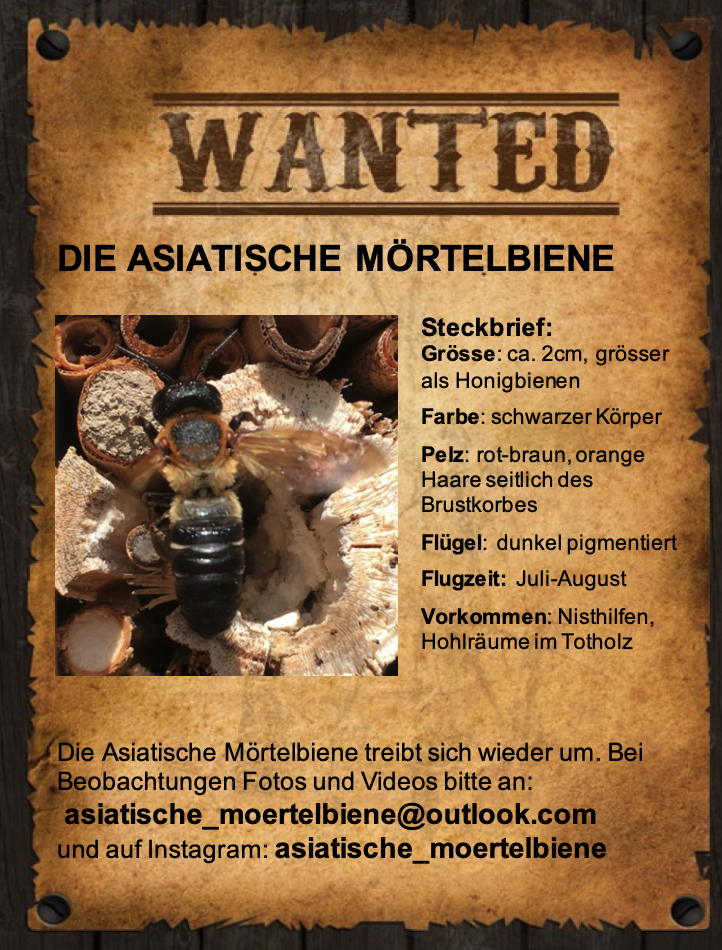 Partner
Inatura Erlebnis Naturschau GmbH
Entomologische Verein Bern
Naturschutzbund Österreich
Naturbeobachtung.at
Pollinature Beehome