SoilPlastic is a citizen science project that collects data on plastic in soils. No prior knowledge is needed to participate and you can enter your observations in the SoilPlastic app in just a few minutes.
What is it about?
Plastic products and their remains are ubiquitous. However, we still know little about how much and which types of plastic end up in soils and what effects this has. Observations by citizen scientists help scientists to fill this knowledge gap. This is an important field of (citizen) science, as we rely on soils to produce 95% of our food.
How can you participate?

With the SoilPlastic app for Android and iOS, observations can be entered anywhere and at any time. Entries can also be made via the browser in the web-based app. So if you spot plastic in the environment while walking, cycling or on your way to work/school, enter your observation as a "spot" in the app. GPS localisation on your smartphone should be activated so that the spot is automatically placed in the right location. A spot needs at least information about the amount and size of the plastic found, about the surroundings (field, park, etc.) and a photo of your observation.
Other details are optional: colour of the plastic, type of plastic, information about the soil (texture, soil life), other material found. This will help the research team to understand the distribution of plastic and the site more precisely. Of course, the environment will be happy if you take the found objects with you and dispose of them in the correct waste bin.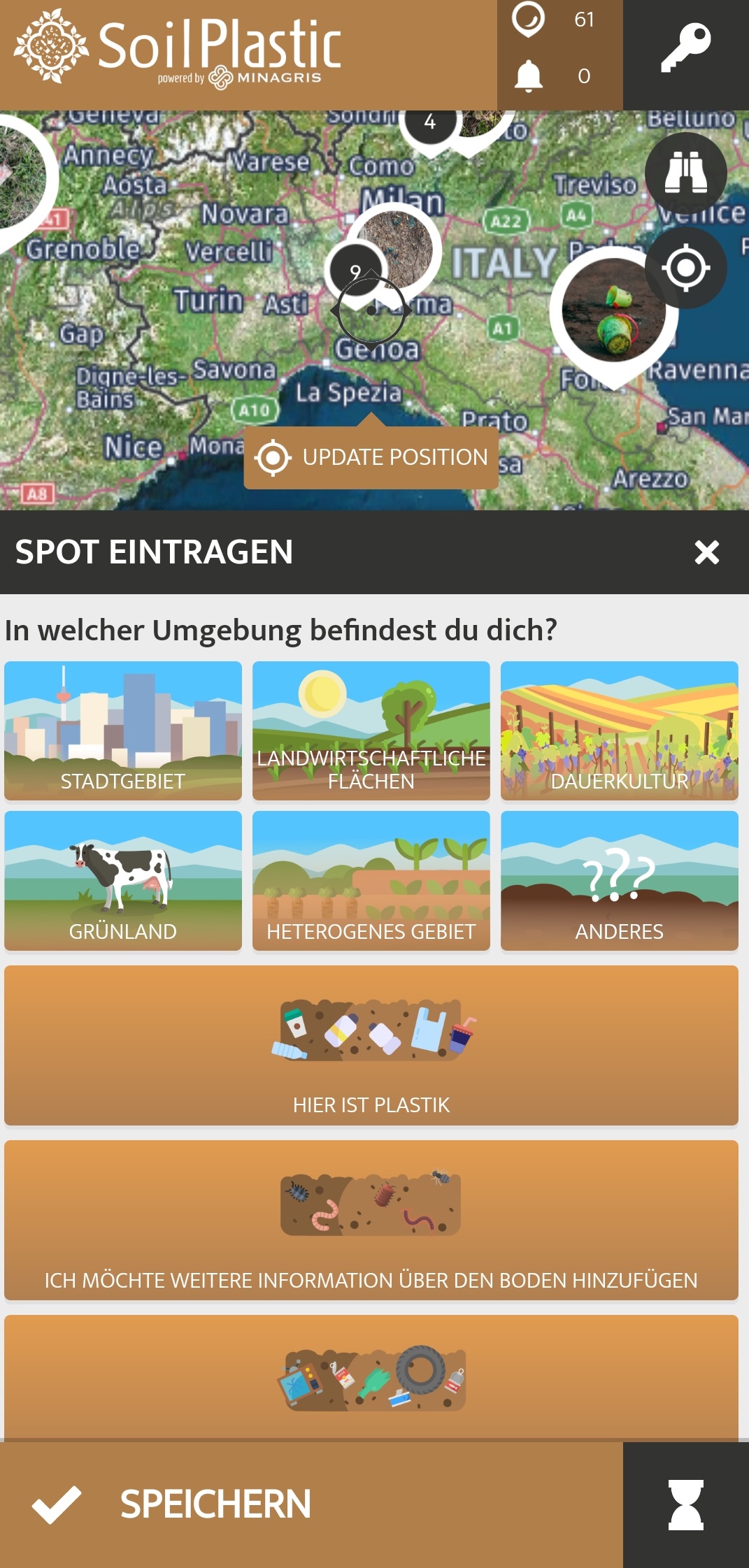 What do I get out of it as a citizen scientist?
The citizen scientists become part of the EU research project MINAGRIS (Micro- and Nanoplastics in Agricultural Soils) and make an important contribution to a clean environment by adding knowledge and collecting the found objects from the environment and disposing of them properly. You will also learn new things about plastics, soil and (citizen) science in a fun way. Furthermore, the SoilPlastic app allows you to connect with other Citizen Scientsts who probably have similar interests. As the SoilPlastic app is part of the citizen science platform Spotteron, you can use the same account as in other Spotteron apps and communicate about different topics and projects.
What is the data used for?
The collected data is used in the MINAGRIS project to get an overview of the amount and type of visible plastic on soils. Among other things, MINAGRIS investigates the effects of plastic on soils and biodiversity and develops a sustainable use of plastic. In addition, the data collected in the Citizen Science Award 2023 in Austria will be published in a scientific article (anonymised, of course). The spots in the SoilPlastic app are also visible to everybody interested.
Links:
Article about the SoilPlastic App
MINAGRIS is funded by the European Union's Horizon2020 programme for research and innovation under contract number 101000407.
Picture gallery
Development of the app by Spotteron
SoilPlastic is part of the EU project MINAGRIS