Database of fungi of Austria
The project "Database of fungi of Austria" aims at a comprehensive documentation of the occurrence and distribution of fungi in Austria, and to present and evaluate the available data. It is an Austria-wide cooperation of numerous mycologists, citizen scientists and institutions, which collect distribution data of fungi or hold collections of fungal specimens, coordinated by the Austrian Mycological Society.
The freely accessible online version of the database www.austria.mykodata.net offers the possibility to view distribution maps of more than 8,100 fungal taxa and to retrieve the current data status with more than 440,000 records from over 13,000 different sites throughout Austria. In addition to the most exact site and time information possible, many records contain information on the habitat and substrate, on the identification and scientific documentation, and on the origin and source of the stored data.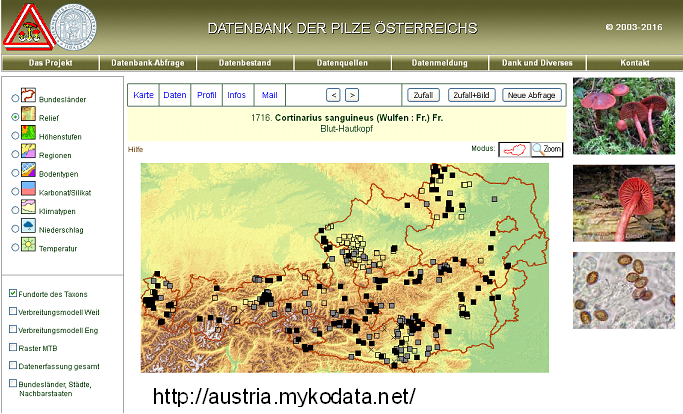 The web pages also contain summary evaluations of the parameters recorded in the database, both for the individual fungal species and for geographical units or for the entire database.
Many observations on the occurrence of fungal species are reported by amateur mycologists. Citizen scientists throughout Austria are thus making a significant contribution to the project's success with their fungal data.
Participation in the database project, especially the communication of fungal findings, is welcome. Please do not hesitate to contact us.
On request the raw data will be made available to interested persons. Please contact us via our contact form.
Österreichische Mykologische Gesellschaft
Department für Botanik und Biodiversitätsforschung
Universität Wien
A-1030 Wien, Rennweg 14
Tel.: +43 (0)1 / 4277-54050