Democratic Citizenship
"Memories and Imaginaries" critically explores with students in Austria what it means to be a citizen. Who can or is allowed to actively participate in the political community? Who can or is not allowed to? We address these questions with the aim of finding collective strategies to confront the state of exclusion and marginalization.
The aim of the research is for researchers to explore the importance of remembering, retelling and re-imagining the past and the future plays in living and participating in a political community.
In every community there are different stories of belonging and exclusion. The particular focus will be on migrant, queer and Jewish memories and imaginaries. In their own ways, they all represent stories of exclusion from Austrian society.
We explore how democratic citizenship works by practicing it on a small scale: Students, artists and researchers come together to learn, share and listen about migrant, queer and Jewish memories and ideas. The Citizen Scientists themselves may also bring and share their own experiences of exclusion.
The project sets new impulses in the field of Citizen Science, as it combines Citizen Science with art-based research. Memories and imaginaries are collective and relational forms of knowledge that are experiential, multi-layered in space and time. Citizen science and art-based research are innovative ways to gain insights into such imaginaries and their potential for democratic citizenship.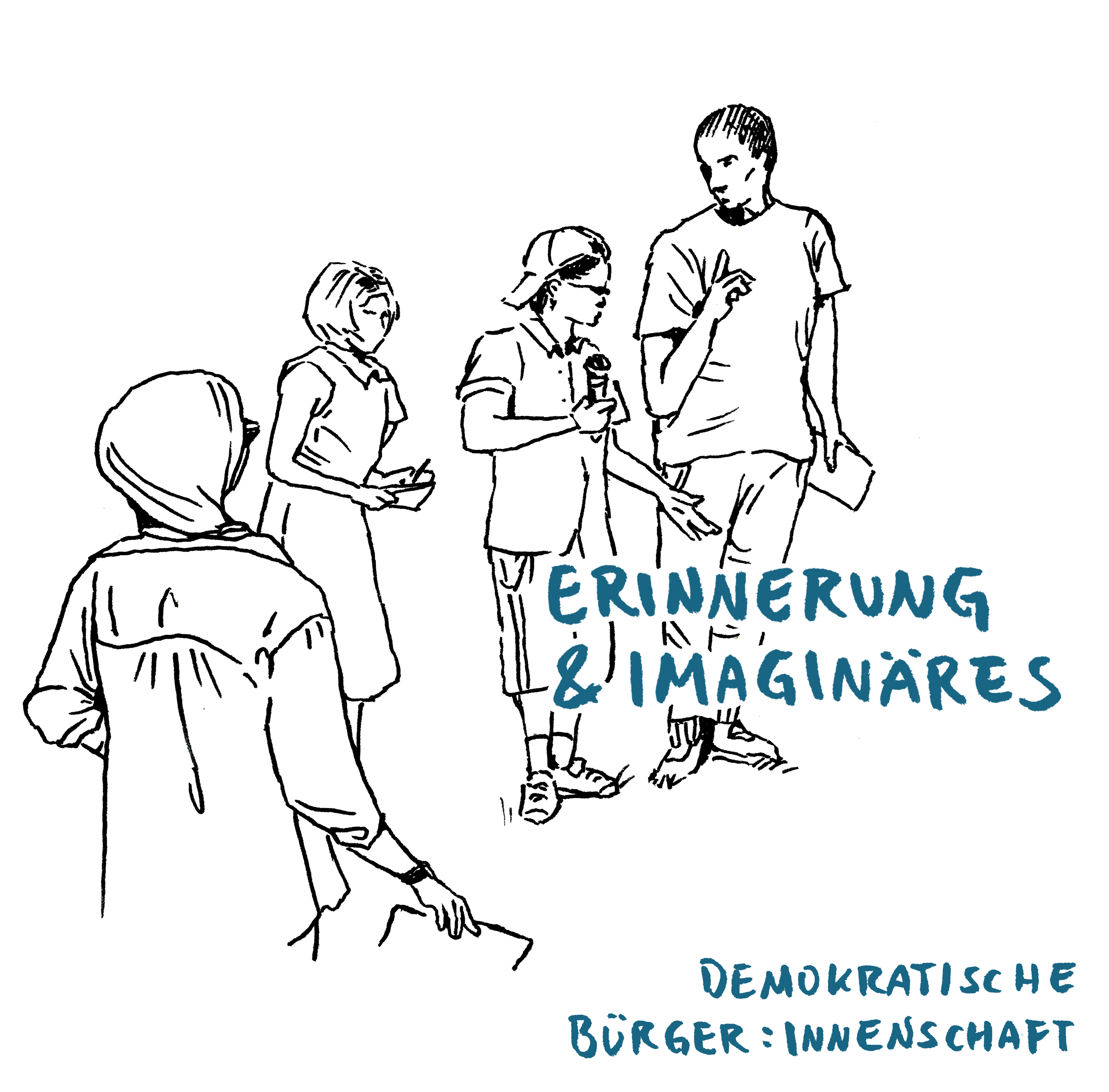 © Felix Deiters
How to participate?
During the co-research period from May to June, a total of three "Remembrance Labs" (May) and one General Assembly (June) will take place. The citizen scientists each take part in one of the three labs, which have the same content. All citizen scientists are invited to the general assembly.
The interim results of all three labs, in the form of graphic recordings and stenographic minutes, will be reflected on together in a joint general assembly at the end of June and the collected output will be jointly verified.
The Labs will artistically take us through the past and present of the three selected communities and enable collective reflection on how we share situations of exclusion and how we can imagine them if we have not experienced them ourselves or if we do not remember them ourselves (for example because we are too young).
Eating together will be as much a part of the collective experience as the mental and physical-affective participation in three group-dynamic, artistically guided exercises.
Artistic inputs will be given in each memory lab, in which the Citizen Scientists are also invited to actively participate:
Rap-poetry with Esra Özmen aka EsRap on the topic of migration,
Building community by performative story-telling with artist Ndidi Iroh,
Researching biographies: multi-marginalisations from a jewish perspective.
An expert will be invited to each Remembrance Lab and prepare a short input for the discussion. They will come from two important civil society organisations:
Dokumentationsarchiv des österreichischen Widerstandes (DÖW),
Wiener Wiesenthal-Institut für Holocaust-Studien.
Place: All three labs will take place in Vienna (exact locations to be announced; should the current COVID-19 situation make it necessary, the labs may take place outside).
Participants: One school class (6th-8th grade) takes part in each Lab. Other participants are the three scientific project staff members and two student staff members from the Academy of Fine Arts, the invited artists and one expert from each of our partner institutions.
What happens to the contributions of the Citizen Scientists?
The activities during the labs will be documented visually and textually by means of graphic recording (artist Felix Deiters) and a stenographic protocol.
The graphic and stenographic protocols will be included in the book publication "Memories and Imaginaries: Democratic Citizenship". The book will be produced in the last phase of the project (autumn 2022) and presented at a closing event in January 2023.
Citizen Scientists are invited to contribute to the production and presentation of the publication.
Contact and research team of the Academy of Fine Arts Vienna
Univ.-Prof. Dr. Marina Gržinić: This email address is being protected from spambots. You need JavaScript enabled to view it.
Dr. Sophie Uitz: This email address is being protected from spambots. You need JavaScript enabled to view it.
Dr. Jovita Pristovšek: This email address is being protected from spambots. You need JavaScript enabled to view it.