GEO Wiki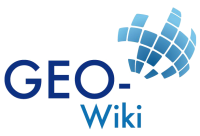 Geo-Wiki is a platform which provides citizens with the means to engage in environmental monitoring of the earth by providing feedback on existing spatial information overlaid on satellite imagery or by contributing entirely new data. Data can be input via the traditional desktop platform or mobile devices, with campaigns and games used to incentivize input. Resulting data are available without restriction.
Projektleitung
International Institute for Applied Systems Analysis (IIASA)
Schlossplatz 1
2361 Laxenburg
Weitere Informationen zum Projekt und zur Mitarbeit finden Sie auf der Projektseite.