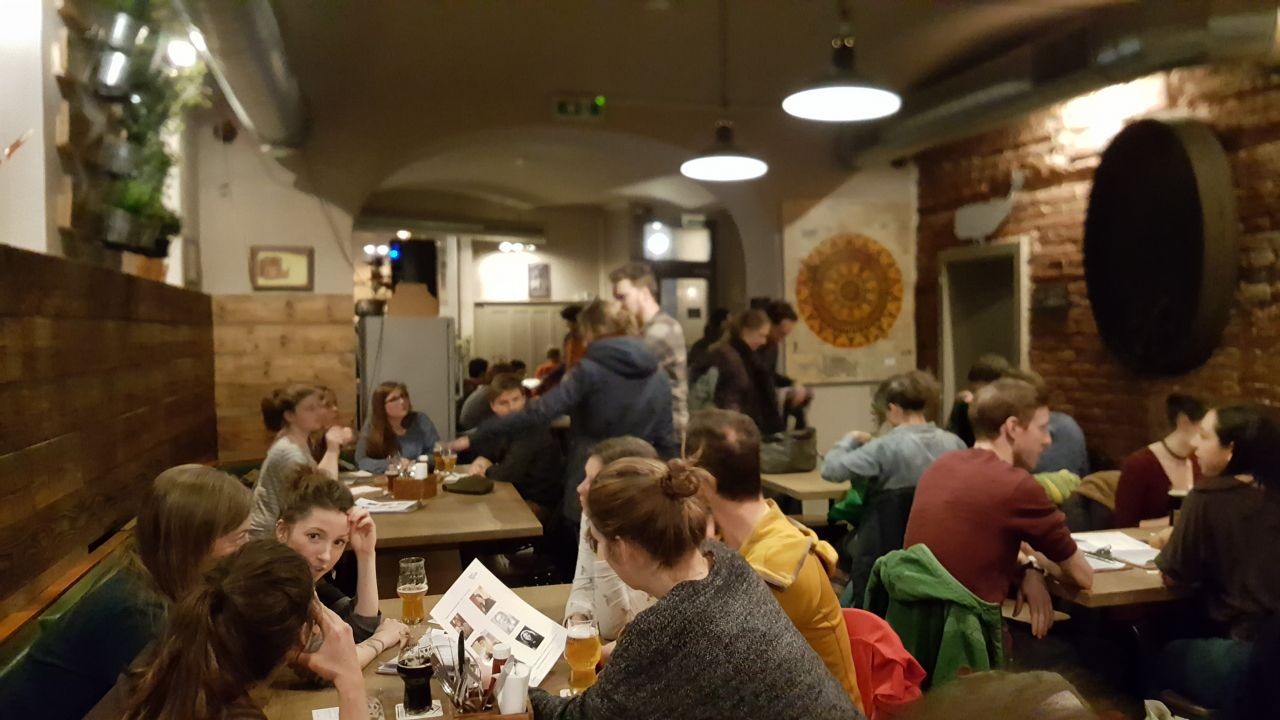 Am letzten Freitag im September findet wie jedes Jahr in vielen europäischen Städten die European Researchers' Night statt. Auch in Österreich gibt es in einigen Städten wie Wien, Salzburg und Innsbruck dazu Veranstaltungen. Als Vorgeschmack auf eine spannende Nacht voller Wissenschaft und Forschung organisieren wir wieder unser beliebtes Citizen Science-Pub Quiz "Pub forscht". Damit wollen wir zeigen, dass Wissenschaft und Forschung keine langweiligen Tätigkeiten sind, sondern auch lustig und unterhaltsam sein können.

Pub forscht im Rahmen der European Researchers' Night
Pub forscht ist unser vielfach durchgeführtes und beliebtes Citizen Science-Pub Quiz, das wir als Pre-Event zur European Researchers' Night erstmals seit Beginn der Pandemie wieder vor Ort in Wien durchführen werden. In Teams wird dabei versucht, die Fragen der Quizmaster zu beantworten und am Ende als Gewinner*innenteam einen tollen Preis mit nach Hause zu nehmen. Und das Schöne dabei ist, dass man nebenher auch erfrischende Getränke und köstliche Burger zu sich nehmen kann, denn wie schon vor der Pandemie freuen wir uns sehr, wieder bei der Beaver Brewing Company zu Gast zu sein. Diesmal sind wir jedoch beim Standort im 5. Bezirk, in der Schönbrunnerstr. 98 zu finden.
Die Regeln sind einfach:
1) Bildet ein Team aus maximal 6 Personen. Wenn ihr bislang noch nicht Teil eines Teams seid, dann nutzt die Kommentarfunktion weiter unten, um ein neues Team zu gründen oder bei einem bestehenden mitzumachen.
2) Findet einen aussagekräftigen Teamnamen und meldet euch mit eurem Teamnamen an.

3) Seid am Tag des Pub Quizzes rechtzeitig vor Ort.
4) Ratet mit so gut ihr könnt (während des Quizzes ist die Verwendung von Suchmaschinen, digitalen oder analogen Nachschlagewerken oder Dokumenten, sowie das Befragen von Nichtteammitgliedern oder Absprachen bzw. Beratungen zwischen verschiedenen Teams untersagt; bei Zuwiderhandeln erfolgt Disqualifikation des gesamten Teams).
5) Always play fair und vor allem...
6) Habt Spaß!
Wie immer wird "Pub forscht" sowohl in deutsch als auch in englisch ausgetragen werden.
---
Pub forscht as a pre-event to the European Researchers' Night
Always on the last Friday in September, the European Researchers' Night takes place in many European cities, and this year also in several cities in Austria, among them Vienna, Salzburg and Innsbruck. As a teaser of an exciting night full of science and research, we are again organising our popular Citizen Science Pub Quiz "Pub forscht". We want to show that science and research are not boring activities, but can also be fun and entertaining.
Pub forscht as part of the European Researchers' Night
Pub forscht is our popular Citizen Science Pub Quiz, which we will be hosting in Vienna for the first time since the beginning of the pandemic as a pre-event for the European Researchers' Night. Teams will try to answer the questions of the quiz masters and in the end the winning team will take home a great prize. And by the way: you can have refreshing drinks and delicious burgers on the side, because just like before the pandemic, we are very happy to be guests of the Beaver Brewing Company again. This time, however, we are at the new location in the 5th district, at Schönbrunnerstr. 98.
The rules are simple:
1) Form a team of maximum 6 people. If you are not part of a team yet, use the comment function below to form a new team or join an existing one.
2) Find a meaningful team name and register with your team name.
3) Be at the location 10min before start.
4) Guess as well as you can (during the quiz, the use of search engines, digital or analogue reference books or documents, as well as the questioning of non-team members or agreements or consultations between different teams is prohibited; in case of violation, the entire team will be disqualified).
5) Always play fair and above all....
6) Have fun!
As always, "Pub forscht" will be held in both German and English

Here are the most important facts:Date
: 14th of September 2022
Time
: 19:30-21:30
Registration link
:
https://survey.boku.ac.at/466776?lang=en
Location
: Beaver Brewing Company, Schönbrunnerstr. 98, 1050 Vienna